Conference room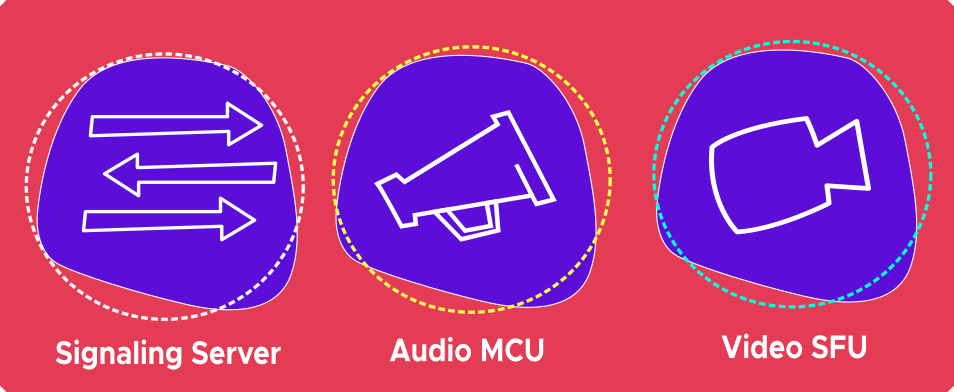 A conference room is a logic entity composed of a audio room and a video room, tied together and managed from a signalling service and under a number of configuration parameters. The audio room is created in a multi conferece unit (MCU) implemented in a Quobis wac service named audiomixer, while the video room lives in a singe forwarding unit (SFU) implemented in Quobis wac in a service called the video SFU. Both rooms are "coordinated" by the QSS and other internal services in order to provide a complete audio and video experience to the end-users.
Note
Summary: a Please pay to attention to the difference between a "audio room" or a "video room" with a "conference room" (which is a combination of a audio room, a video room and a set of parameters).
Every audio or video connection made with Quobis wac is managed via these three internal components, regardless of the number of users and thus providing the same set of functionalities. This conference-centric approach with support to call-oriented scenarios is one of the key benefits of the platform and eases the design and implementation of a wide range of use cases thanks to its flexibility.
Audio MCU
Quobis WAC provides an audio MCU (usually refered to as "audiomixer") based in the Asterisk open source software. The role of the audio MCU is to join together all the audio streams from the participants (both WebRTC and SIP ones) into a single mixed stream that is provided back to all the participants, by making use of the "confbridge" functionality. It is also responsible for the audio recording and interconnection to the SIP network.
Video SFU
Quobis WAC provides a SFU based in the Janus open source software. The role of the video SFU is to dispatch video stream to the conference participants, and it's also responsible for the video recording. The Quobis WAC -in fact, the QSS- takes care of the setup of an audio MCU room and a video SFU room that are tied together in order to setup a conference room. There is a 1-to-1 relationship between the video SFU room and the confbridge instance within the audio MCU. All the SIP calls which can be introduced in the SFU room will also join this same confbridge.
Note
The developers using the SDK will not need to deal with these details as the audio/video room management is perfectly wrapped by the SDK code.
Properties
A conference room has a set of properties that configure its behaviour and what can be done. Some of these functionalities affect the whole platform while others can be applied to individual conferences.